Written by Bruce Whalley PGA Professional
Before I start rambling about anything and everything to do with Golf let me start by supporting the title of this post! … Golf, it involves  relaxation, exercise, fresh air, meeting with friends, business, pleasure, focus, intelligence, strength, finess, confidence, 'getting knocked down but getting back up' (alot), individual and team competitiveness, success, failure, confidence, anxiety. When you think you have cracked it, it will 'pull the rug from under your feet', it will make you look silly, it can also make you look and feel like you always were a great player of the game….
So in a Cliche kind of way it is a bit like life! Ups and downs etc etc.
---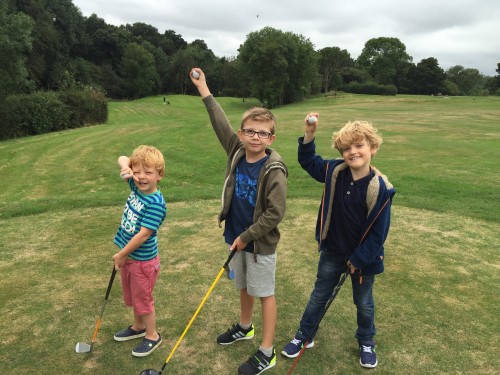 2016 was a year I enjoyed introducing
many kids to the game…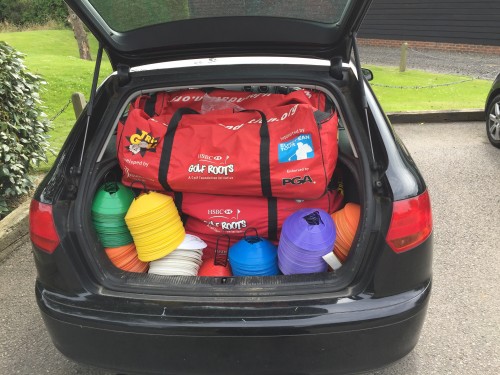 Tri Golf at Local Schools with the help of Andy Wright from The Golf Foundation
---
Time has been scarce and I have probably played the least amount of Professional Golf this year than maybe I ever have. A rebellious 6 year old plus a hyperactive 1 year old,a demanding boss and wife to boot.. (love you really). Yet I have played pretty good and had a couple of good professional wins and good cheques.
My best round was in a Pro am in July. I played my first 8 holes in 3 over par and was struggling to chip and putt for par on the 9th hole.. At the time (and with over 16 years of playing professional golf) I was foecasting that this was not going to be 'a good day at the office' !! But then my game that day changed…
I did chip and putt for par, followed by an 8 iron to 2 feet of the flag at the 11th for birdie. Followed by another birdie at 12. Suddenly I felt like I was always going to be in contention!
On the 16th a leaderboard showed that -1 was the best score and with the rain coming down fairly hard it still seemed that my progress still wouldnt be good enough to catch the leader.
I birdied the 16th and stood in the 18th fairway with 147 yards and my Pro Am team reminding me (with a hint of humour in their tone) that I would need to hole this shot for eagle to win the event.. Something that rarely happens even when it is not vital.
But this day was the day and I holed that shot to win.
From a round of golf that looked like an obvious 'non starter' turned into a long lasting great memory for me.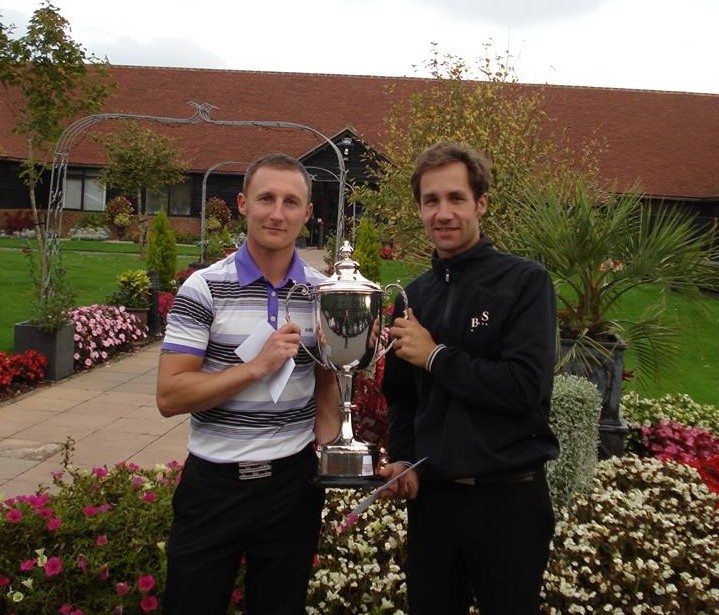 Runners up in The Professional Sussex Pairs with good Friend Lea Cooper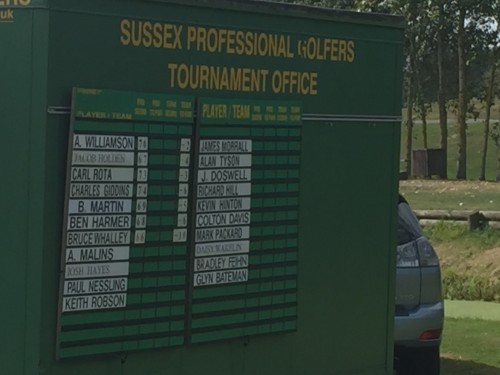 66 and tied 1st Eastbourne Pro Am
---
Whatever level of golf you play at, beit beginner or Tour Professional, Golf will also offer you similar scenarios of highs and lows which make Golf THE greatest game.
If you are looking to further your own game, take up the game or help someone elses game, please take alook at my page for Tuition Options
PGA Professional Bruce Whalley