Bruce Whalley – PGA Professional
PGA Qualified Professional Golf Since 1999
DBS Certified / RSG Member
Burgess Hill Golf Centre Manager
Teaching Golf is a real passion of mine. It can be a really challenging and difficult sport but with the correct instructions I am confident I can improve your Golf! Contact me to book a lesson or make an enquiry.. Text or telephone 07845787528 or email bruce@burgesshillgolfcentre.co.uk
I recommend signing up and watching videos at the link below…
Fast Track Your Learning.. Join Today
---
At a Glance…
– Book an individual Lesson £45.. Includes Range Balls & Video analysis.
– Join me every Thursday Night for a weekly Roll Up Class… 7pm.. Everyone Welcome! Just £10 (Balls included)
---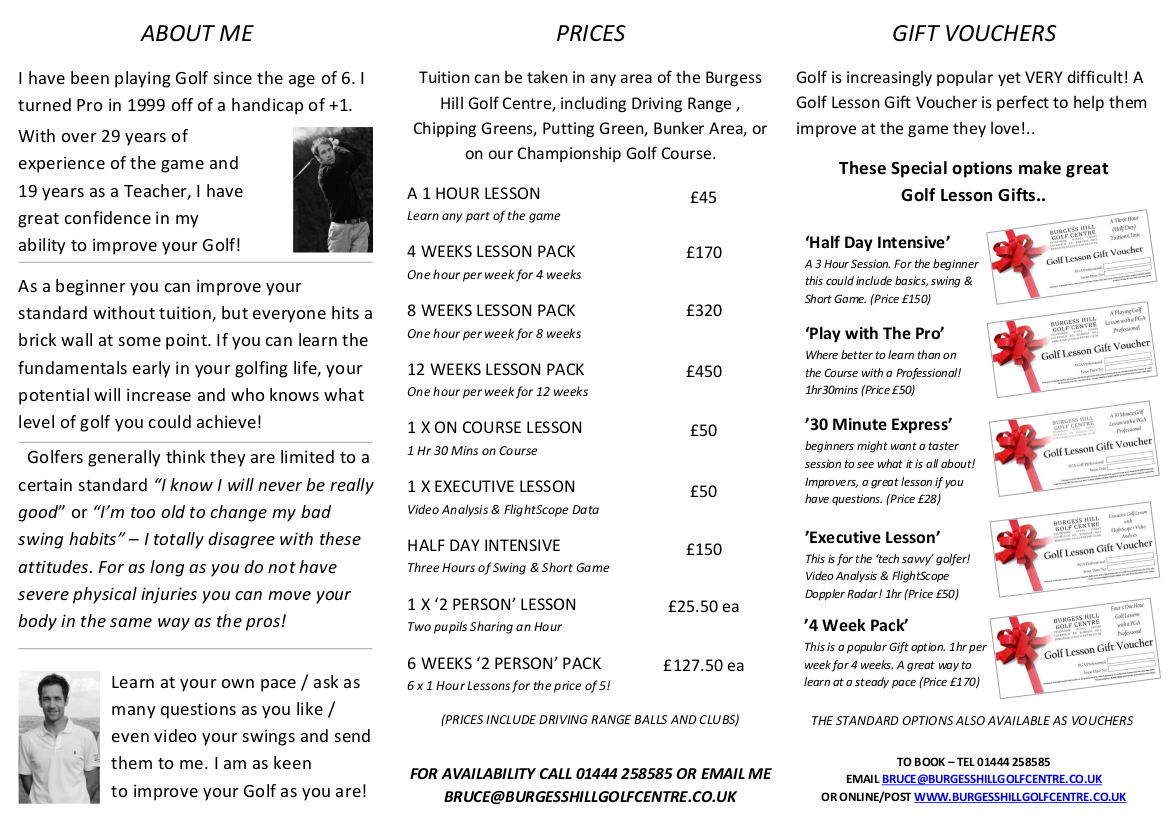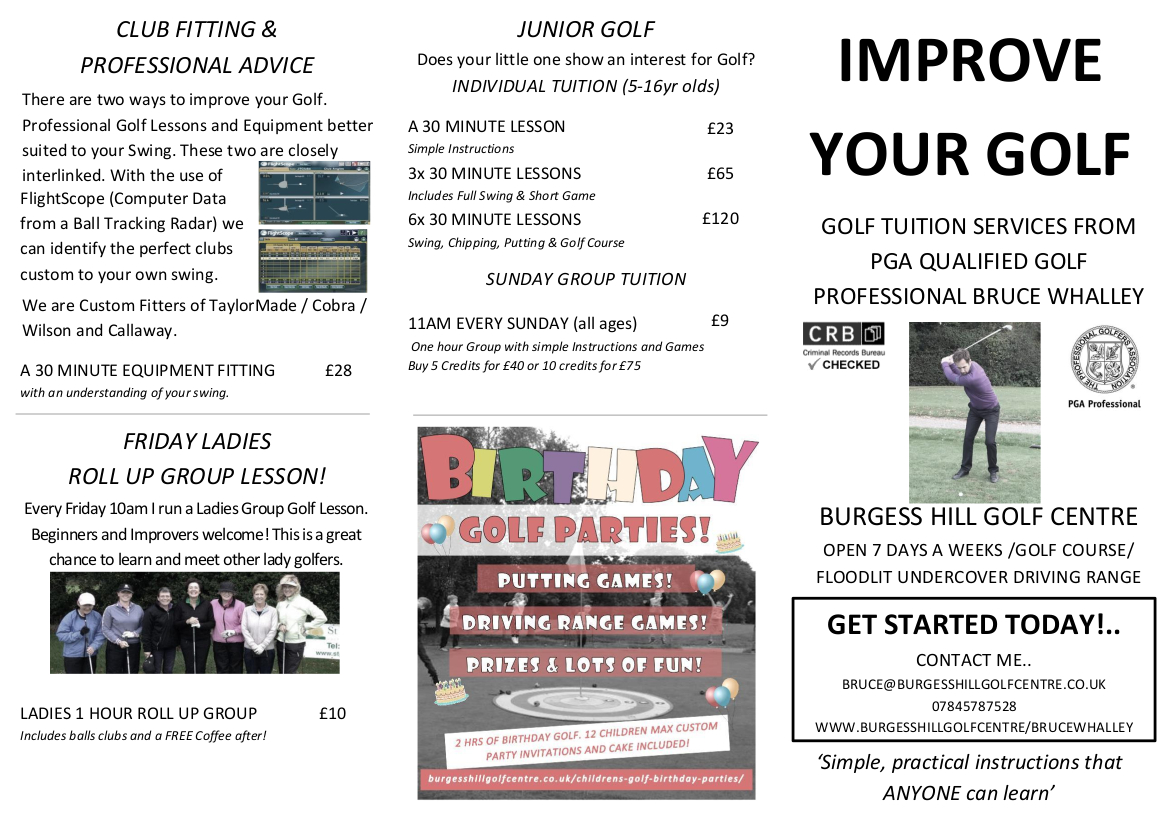 An overview of my Teaching Philosophy..
I am highly motivated to help you with your golf (what ever ability level) because of my love of the game. I definitely do not consider helping people with their golf to be 'work' because I love to talk and watch golf even when i'm not at the Centre! – I have been keen on improving my own Professional golf for years and still actively play Professional golf in Sussex and in the PGA South Region. Having this common objective of improving my golf energises me to also help others.
Recent Testimonies ..
Hi Bruce,
Thanks for the swing video, it is amazing the hugh difference between the before and after swing and stance. I still cannot believe how quickly you got me hitting the ball straight.

I think I mentioned on Wednesday, I first tried to learn to play golf twenty-nine years ago! Over the years I have had numerous lessons and I have never been able to master a golf swing, I have had a terrible hook to the left and I have always topped the ball – it has been so bad and so frequent I have always felt too embarassed to go out on the course with friends.

Before we started, if you had told me you could stop me hooking the ball and topping the ball in one lesson, I would not have believed you. And, with just a few simple instructions that I could follow! I think that was the thing that impressed me the most, I found everything you said easy to understand, it made sense and I could see an immediate change. I can still remember most of it and it is still working – although I think I am going to need a few more lessons, but it is starting to feel like the thirty year wait is over!

Thanks again, Bruce, I look forward to seeing you again in the New Year,

–Frank

Bruce just a quick email to say thanks for today.

The work on my right arm during the takeaway is really starting to make sense and I had a great practice, after the lesson, applying the new right arm takeaway to all my clubs. Just wish you could have seen the driver and 3 wood (of the mat) I would have made you proud.

So in summary I have a lot more confidence with the RSS and I will continue to practice the setup, right hand on grip with left hand on elbow drill, and half swing as you suggested.  I will also play with what feels like half swings as this worked well with all my clubs on the range.

–J

Hello Bruce

I think I can speak for us both and say it was a great lesson. We took your questionnaires home and caused a few arguments! I think our scores remained the highest, despite our other halves' years of experience which is proof of the level of teaching we had.

"We would both like to thank you for a fun and very entertaining introduction to golf. You have been a very patient and focused teacher and listened to what we both needed and at the same time have given us good constructive feedback. The basic skills you have taught us and the lesson in course etiquette has given us the confidence and skills to play independently and with friends. It was just what we needed. We look forward to coming back for some more!"

We will be in touch for perhaps intermediate level lessons, once we've had some practice!!!

Best wishes

–Kate & Tracy

hi bruce

me and tim won! My drives are still insane which is good. i just have to focus on keeping my left shoulder above the right. Chipping was alot better too. Also won longest drive just over 300yards. cheers for the training buddy my golf is much better. Need to sort my irons now

–Tom

Thanks for the driving lesson today. Have to tell you I hit a bucket of balls with the new set up and have NEVER hit it so straight and long (at least 5 went over the fence at the back).  Obviously miss hit a  few but they were more hooky as opposed to out to the right. Not had a chance to play with the putting set up yet but sure that will improve things as well.

–Neil

Thanks Bruce,

appreciate you taking the time to do this.

Started trying to implement these changes yesterday and drove the ball really well.

cheers,

–James

Hi Bruce,

Thanks for the link. Very informative. Played sunday and used the new techniques you taught me.

It was stableford and using the new swing I still scored 36 points. Hit the ball pretty well, much lower controlled flight.

Only time I hit a poor shot was when I went for a bit more power, and I could feel my lateral weight shift coming back. Will try it for a few weeks and then come back to you for a refresher.

Cheers

–Andy

Hi Bruce,

Thank you so much for this – it really does make sense. I played nine at a very soggy Mid Sussex on Friday and was striking the ball so much more solidly.

The lesson you gave last week was spot on mate, I need to get out and play a few rounds but will def give you you a shout soon for another session.

Really appreciate the videos.

Thanks again.

–R