(Contact Ryan for a Lesson ryanfitz13@hotmail.com or text/ring Ryan 07557042181)
The Fine Margins of European Tour Qualifying School
This week I played in a four round event which was part of The First stage of European Tour Q School. Tour school is a grueling test of your golf game with the end goal being one of 25 European Tour Cards, the format of the school is played over three stages and a total of 16 rounds of competitive golf. Each stage will have a field of over 100 players looking to finishes in the top 20 to advance to the next stage. As the stages progress the quality of golfer become a lot greater, from leading world amateurs to players that have just missed out on keeping their cards from the previous year.
I decided to play in the Qualifier at Collingtree Park which is in Northampton, the course is tree lined and plays just short of 7000 yards of the back tees. The course is a good test with plenty of birdie chances but also holes where you have to make sure that your game plan is bullet proof. Certain holes are very demanding off the tee and making poor swings on these tee shots can lead to doubles and triples. These holes have either water up one side of the fairway or out of bounds on the other side, shots like this really test your swing under pressure and if there is a weakness in your game IT WILL be found out.
My opening round was very steady, I had 72 shots which was level par which left me in tied 30th after round one. I played really nicely all day but did not hole anything of any distance of the greens (that statement will be heard a lot throughout this blog). I made three birdies and three bogeys, a nice way to start the event. The mood had changed on the range from the practice day before, people were quiet and there were a lot of anxious faces. Tour school can be the last chance for a lot of players to try and make it so there is no room for error.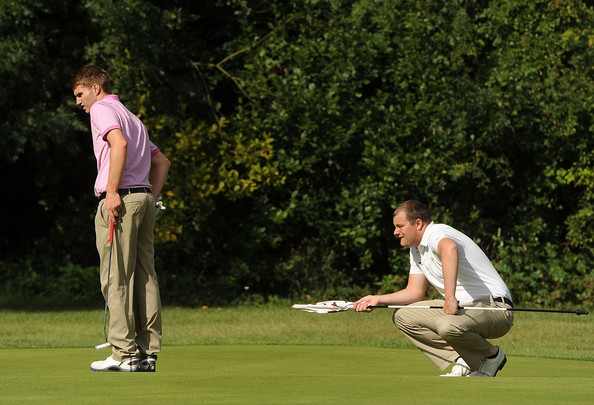 Second day and second round, I felt awful today. Maybe it was a mix of lack of sleep but I knew that today was going to be a tough day on the course. I was thinking to myself that I would have to dig in today to make sure I keep myself in contention even though I was a bit under the weather. I played really nicely from tee to green and hit the tee shots that were the difficult ones really well but yet again I holed nothing! I has two bogeys and 16 pars (74) so a very frustrating round but on the brightside there was no damage done and I knew I'd need a few good round to shot back up the leaderboard.
Round three, I made sure that I arrived with more than enough time before my round so I could use my putting mirror and board to check that I was starting the ball on line and the putter face was aiming where I wanted it to be aiming. After a 45 min putting session I felt a lot more confident about today's round and after a decent warm up session I was off.  I got off to a lovely start and was -2 after 4 holes, knowing I needed a low one I kept patient and took the birdie chances where I could. After 9 holes I was just -1 with work to do on the easier back 9. I gave myself some really good chances again but made nothing on the greens, I got myself to -2 with one hole to play. The 18th at Collingtree is a 550-yard par 5 with an island green. The fairway is guarded with water on the left side and out of bounds on the right, I had been hitting the ball lovely off the tee so deiced to play aggressively so I could go for the green in two. I made a really poor swing and lead to a bogey up 18 which meant I had shoot 71, I had it all to do in round 4.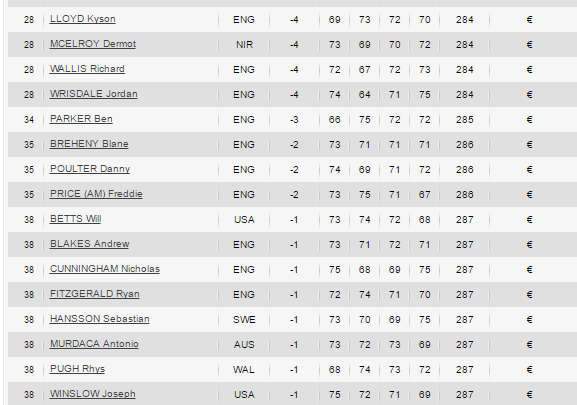 Round 4, I felt really good in the morning and had a great warm up session on the range. I knew that I would need a really low round to get the job done so I spoke to my coach the night before and we made a game plan for the day. My first hole of the day I hit my tee shot right behind a tree, after chipping the ball out I had 164 yards to the hole and hit 9 iron into 2 foot and holed the putt for par. Got away with one there! After the shaky start I gave myself 7; more birdie chances on my front 9 ranging from 4 foot to 15 foot. I only converted 1 of these which again is frustrating. A quick three putt bogey on my 9th hole left me level par for my front 9 and a lot of work to be done on the back 9. I needed 6 birdies minimum so I had to make sure I gave myself plenty of chances and that I did. I gave myself 7 birdie chances through 9 holes and made just 2 of them. I hit a wedge to 2inchs and then two putted a par 5 for birdie. This lead to a round of 70 (-2) which left me 4 shots shy of the qualifying mark on 1 under for 72 holes.
Overall a very frustrating week especially with the putter, if I had made just 1 more putt a round I would have made the qualifying number and would have progressed onto the next stage.
72 Holes
Birdies- 10
Pars- 53
Bogeys- 9
From a coach's perspective I am always getting my clients to improve the small things which can lead onto better scores and a reduction in their handicaps. If we look at my week and break it down it's a case of not putting well enough, having just 1 less putt a round would have got me into the second stage and a chance to gain a European Card.
On average if you play 30 rounds of golf a year and have two three putts a round this can have a massive effect on your scores. By keeping the way, you hit the ball the same as long as its manageable but improve from 100 yards and in and on the greens this can lead to a reduction in scores and handicap. If you turned those two three putts per round into two putts you would save 60 shots per year!!
Pop in and see how I could change your game and lead you to the goals that you want to achieve
Ryan Fitzgerald
Contact me for a Lesson ryanfitz13@hotmail.com or text/ring me 07557042181